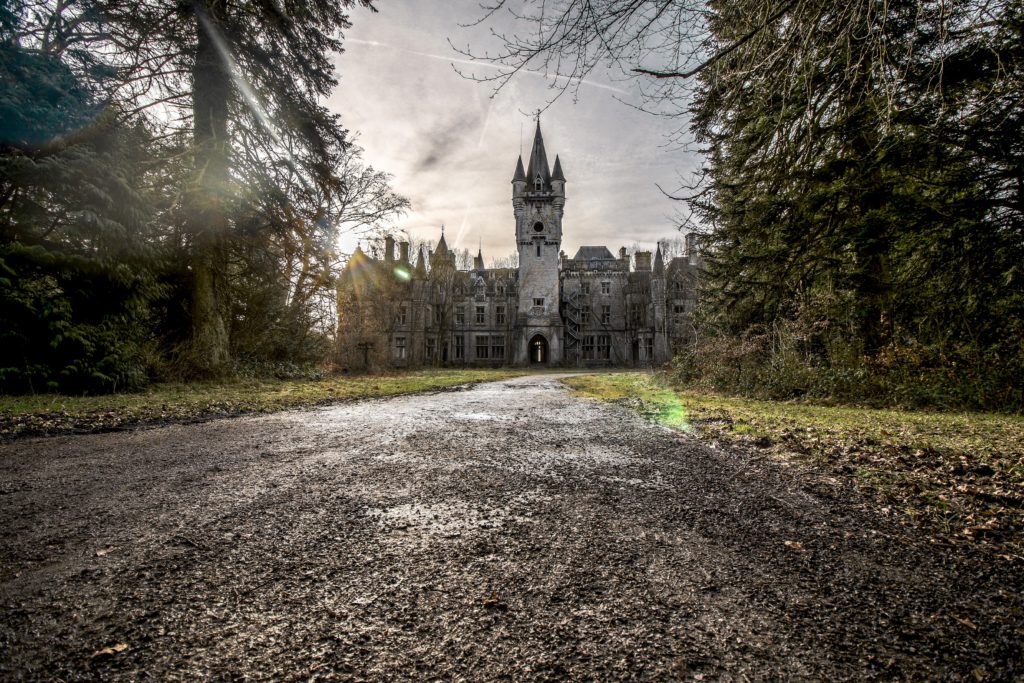 This castle is a page of the Belgian history that will soon be turned since we know that its owner has finally acquired the demolition permit. Good or bad news? Anyway, the case had dragged for too long…
This building has raised the curiosity and wonder of many people thanks to its neo-Gothic and fairytale-like style. Over the years, visitors fought one against the other, brandishing their cameras and machine-gunning all the space, sometimes being expelled by a guard preceded by his reputation. And eventually, they would expose proudly on the net their pictures perfectly identical to hundreds of other pictures already published before.
The Castle of Noisy-Miranda became the place abandoned par excellence which we do not present anymore in Belgium. It has also been listed in some "TOPs" as one of the most beautiful abandoned places in the world. Nevertheless, beyond its facade and impressive towers, the interior of this Disneyland castle is nothing but sad. The inside is completely upside-down with barely holding floors as well as rotten walls and ceilings. And, speaking of Disneyland, we almost have to queue to visit this "attraction". So let's not even talk about discretion…
And however, at the very beginning, this castle was not more than a simple farm connected with another castle not far from there. It belonged to the count of Liedekerke-Beaufort. By fear of the post-revolutionary fallout around the year 1792, the count had taken refuge in this farm to settle down and, in time, the farm got bigger and bigger. Thus the biggest part of the construction of this castle took place between 1866 and 1907, under the supervision of the English architect Edward Milner, replaced after its death by the French architect Pelchner.
From then, the site became the summer residence of the family Liedekerke-Beaufort. During the Second World War, the German troops briefly occupied the place, and then it was re-used to welcome the children of workers of the SNCB (the Belgian railway company). Further to a fire, the castle was abandoned in 1991. For lack of maintenance, the site sank into decay and passed over the years the point of no return. Even though the destruction of the site became a certainty since 2015, the date of its execution is still indefinite (most probably, the owner is still studying the various offers of demolition).
After several months of hesitation, I thus decided to visit this site now inevitable at the beginning of 2016. Furthermore, it was for me the opportunity to try a new wide-angle lens. This was a good place for moving memories, good ones but also sad ones. Nevertheless, nobody can escape the architectural marvels nor the magnificent view from the top of the main tower. After its last breath, the Castle of Noisy-Miranda will be able to finally enjoy a well deserved rest!
---
ℹ️ Current state: demolished