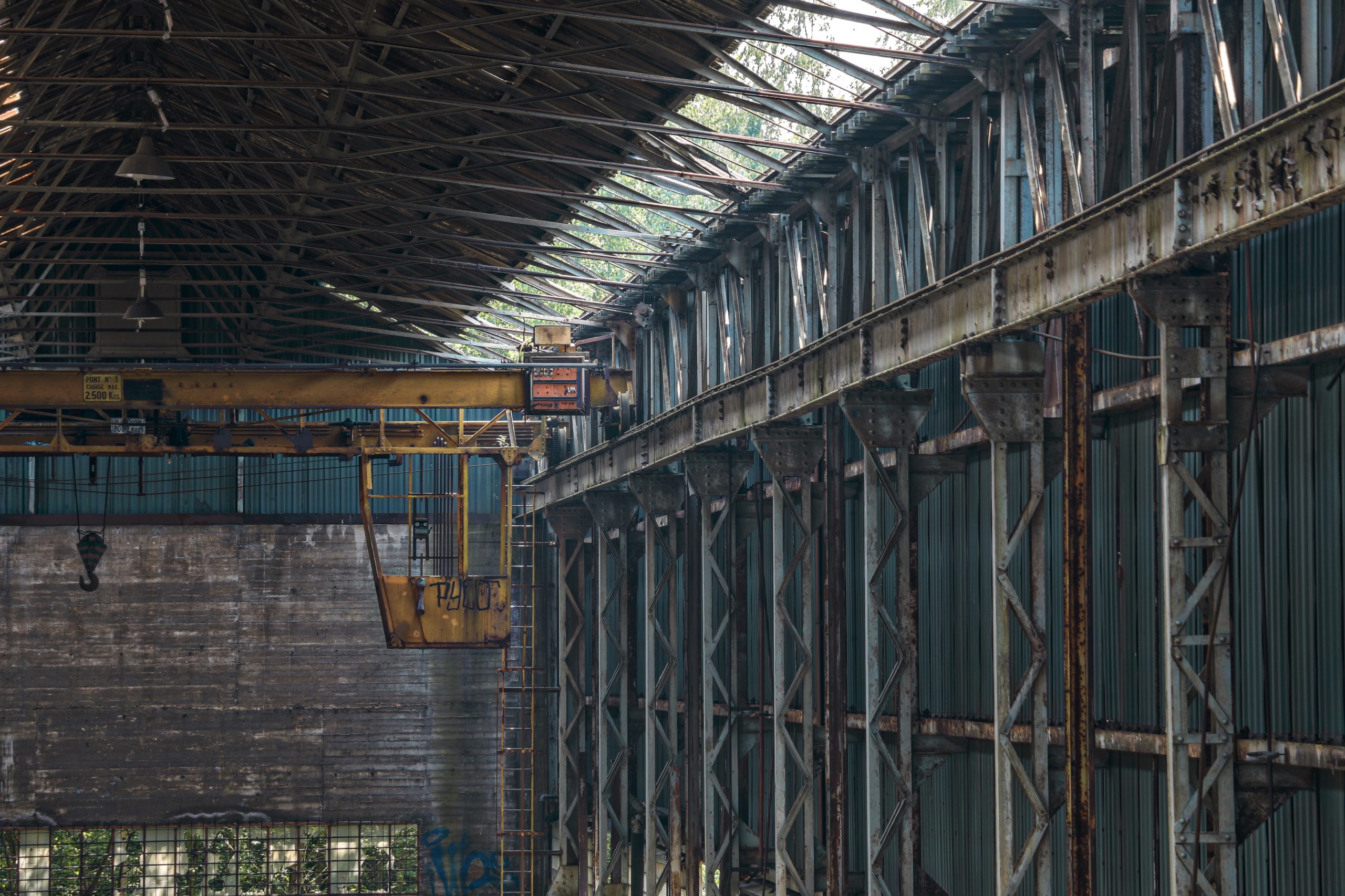 > EN
This site was the headquarters and included warehouses of a former Walloon civil engineering company which went bankrupt in 2004. Its activities started in 1948 but its missions remain quite unclear: it is known that its services included various construction sites and infrastructures installations. Some sources mention the construction of viaducts, bridges, roads or storm basins; others cite heating, ventilation and air conditioning systems.
The majority of the material (joists, logs, technical equipment and various vehicles such as cranes, bulls, roller-compressors, etc.) was put up for sale in November-December 2004. Today, there only remains empty warehouses and empty rooms. Well located next to important access roads, the site is nevertheless abandoned and squatted everyday by homeless people. In spite of this sad state and the danger of a palpable presence, the pretty rays of sunshine through the roof of the warehouse were a fine compensation.
> FR
Ce site constituait le siège et les entrepôts d'une ancienne et importante Société Anonyme de génie civil wallonne, les Entreprises Robert Delbrassinne, d'un capital de 65.000.000 francs belges ayant fait faillite en 2004. L'activité de l'entreprise est recensée depuis 1948 mais ses missions restent assez floues: on sait que ses services comprenaient des chantiers et installations d'infrastructures diverses. Certaines sources mentionnent la construction de ponts-viaducs, de routes ou encore de bassins d'orage; d'autres citent par ailleurs des systèmes de chauffage, de ventilation et conditionnement d'air.
La plus grande partie du matériel (poutrelles, madriers, matériel technique et véhicules divers tels que grues, bulls, rouleaux-compresseurs…) ayant été mis en vente en novembre-décembre 2004, il ne reste aujourd'hui plus rien sur le site que des entrepôts et pièces vides. Très bien situé à côté d'importantes voies d'accès, le terrain est cependant laissé à l'abandon et squatté quotidiennement par des sans-abris. Malgré ce triste état et un danger de présence palpable, les jolis rayons de soleil traversant la toiture des entrepôts furent une belle compensation.