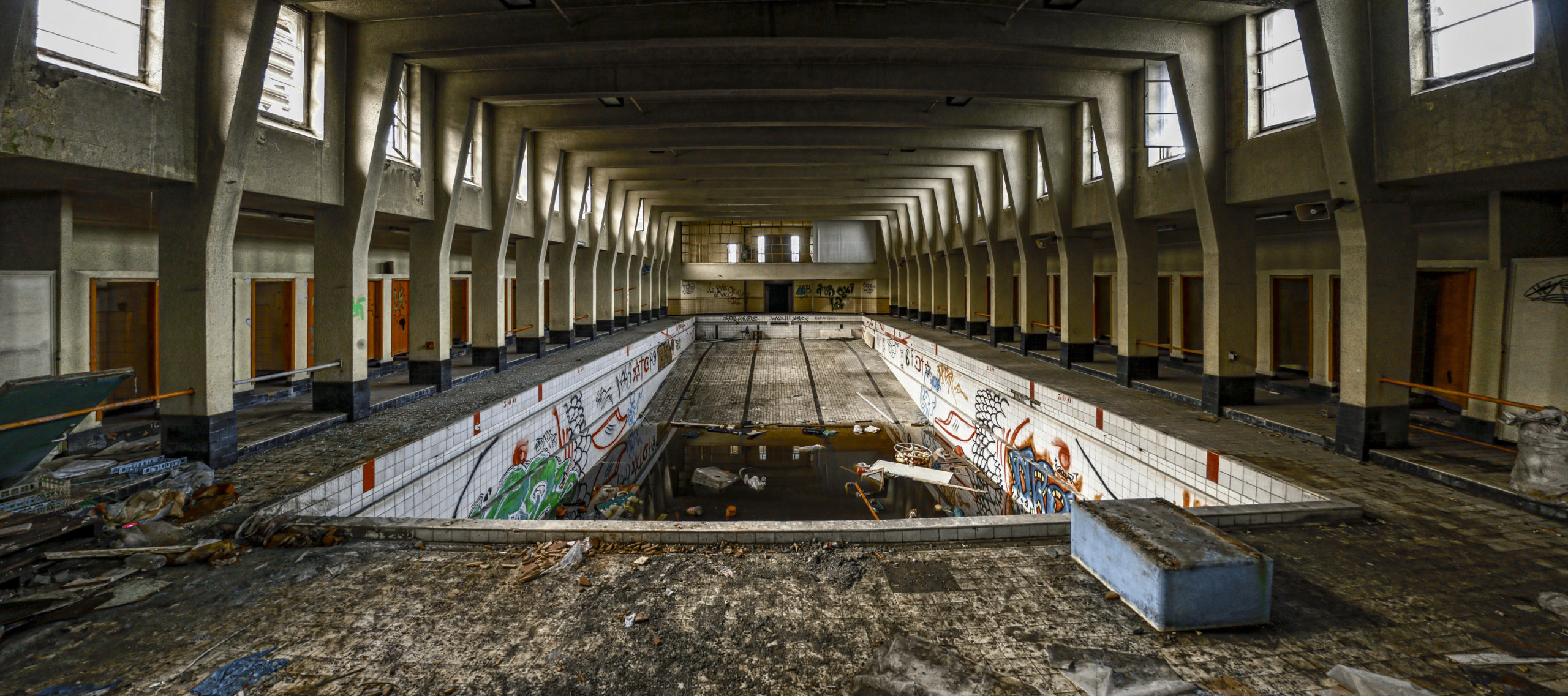 > EN
Swimming-pool « S », « dramatic » or « Mosq »… those are the nicknames given to this establishment of industrial architecture built in 1937. The building was used as a swimming pool, a theater, a casino, a store and a restaurant. Located in a rather animated urban area, the swimming pool was initially intended for the staff of a big industrial company of the region, and afterward opened its doors to the public, welcoming many students and sports clubs of the region before its closure in 1998.
Not able to gather the necessary funds to maintain the building, the owners closed the swimming pool, then the theater on the first floor in 2004. A Muslim community took the place in 2005 in order to convert it into a mosque. Unfortunately, as time passes by as well as decay and waste accumulates more and more, it seems that the future of this former swimming pool is today uncertain …
> FR
Piscine « S », « dramatique » ou « Mosq »… tant de pseudonymes pour désigner cet établissement d'architecture industrielle construit en 1937 et qui abrita en son sein une piscine, un théâtre, un casino, un magasin et un coin restaurant. Situé dans un quartier urbain plutôt animé, la piscine était initialement destinée au personnel d'une grande société industrielle de la région, et par la suite à toutes et tous, accueillant de nombreux écoliers et clubs sportifs de la région avant sa fermeture en 1998.
Faute de pouvoir réunir les fonds nécessaires à l'entretien du bâtiment, la piscine fut donc fermée, suivie en 2004 par le théâtre du premier étage. Récupéré en 2005 par une communauté musulmane, une reconversion du site en mosquée fut envisagée mais, le temps passant ainsi que les dégradations et l'amoncellement de déchets se cumulant, il semblerait que l'avenir de cette piscine soit de plus en plus incertain…