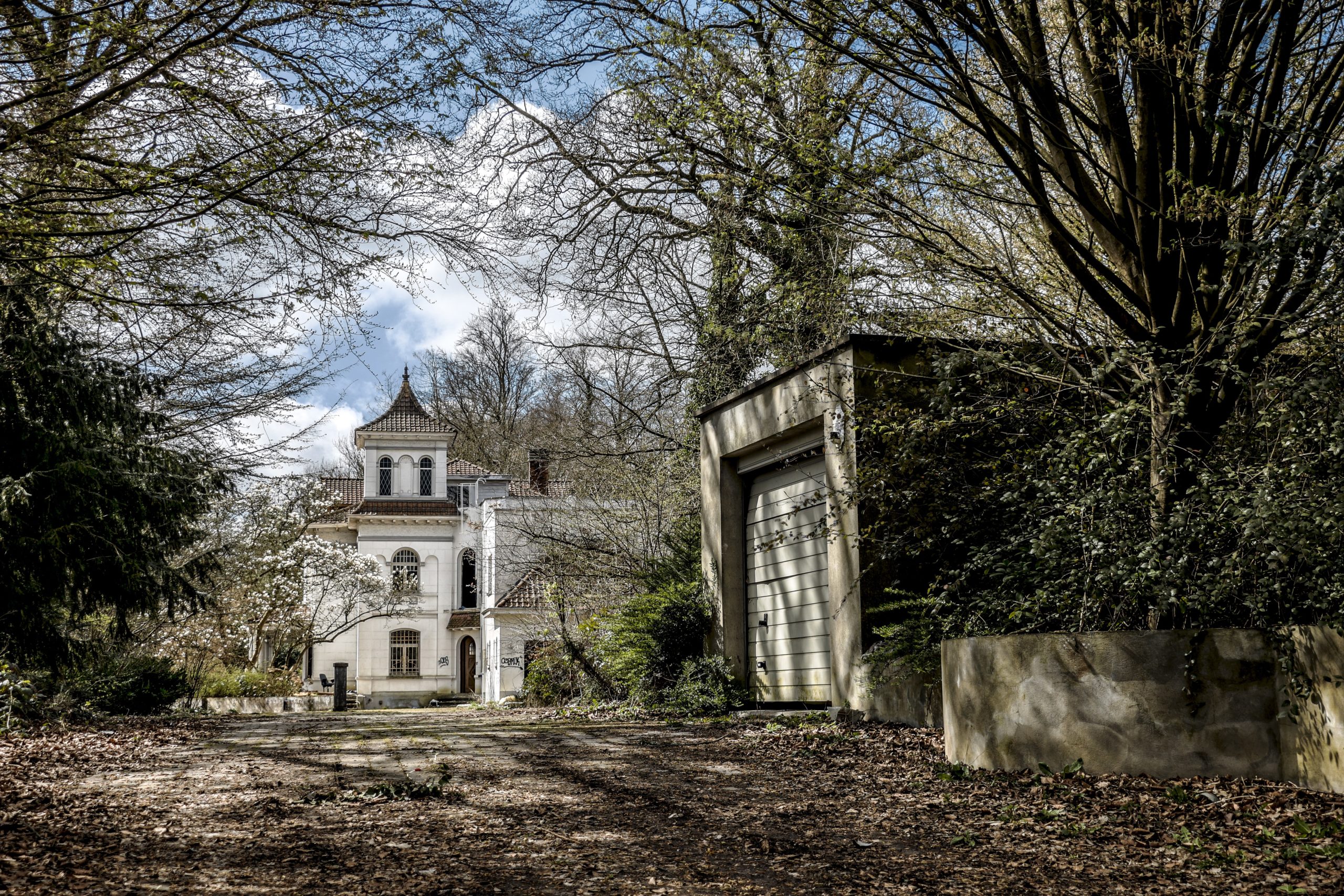 > EN
This magnificent building built in 1925 was the residence of a couple with a particular history. An injured World War I soldier was hospitalized in England and reportedly met his future wife, the widow of a wealthy governor. After marrying in Brussels, they built this castle in a Belgian village, with architecture inspired by many trips made by the aristocratic wife. The building has many rich architectural characteristics, with oriental, Art Deco and chinese inspirations. Some receptions were organized for the village inhabitants, and the owner was a time elected alderman of the community.
Both died in 1940, and the castle was bought in 1988 by a wealthy entrepreneur and his wife. As the building was too big for the two of them, they saw the opportunity to turn the space into a luxury hotel, then into a bed and breakfast, before being abandoned, presumably after the couple's death.
Today, this superb place is abandoned and at the mercy of squatters and vandals of the region. One part of the building was recently the target of a fire, in March 2017. Today, the site could be transformed into a nursing home and/or apartment buildings. These photos were taken before the fire.
> FR
Cette magnifique bâtisse construite en 1925 était la résidence d'un couple à l'histoire particulière. Un combattant blessé de la Première Guerre Mondiale fut hospitalisé en Angleterre et y aurait rencontré sa future épouse, veuve d'un riche gouverneur. Après s'être mariés à Bruxelles, ils firent construire ce château dans un village de Belgique, avec une architecture inspirée de nombreux voyages effectués par l'épouse aristocrate. Le bâtiment présente en effet de nombreuses et riches caractéristiques architecturales, orientales, Art Déco, ou encore chinoises. Le lieu servit notamment de réception pour des fêtes de village, de même que son propriétaire fut un temps élu échevin de la communauté.
Décédés tous deux en 1940, le château fut racheté en 1988 par un riche entrepreneur et son épouse. Le bâtiment étant trop grand pour eux deux, ils y virent l'opportunité de transformer l'espace libre en hôtel de luxe, puis en Bed & Breakfast, avant d'être laissé à l'abandon, vraisemblablement après le décès du couple.
Aujourd'hui, ce superbe lieu est délaissé et à la merci de squatteurs et vandales de la région. Une partie a récemment été la cible d'un incendie, en mars 2017. On parle actuellement de transformer le site en maison de repos et/ou cité d'appartements. Les présentes photos datent d'avant l'incendie.
---
RAPID LINKS / SCROLL DOWN TO :
---
START
GROUND FLOOR
FIRST FLOOR
CELLAR
SWIMMING-POOL
EXTERIORS